Pendants & Necklaces
No piece of jewelry is more noticeable or describes a woman more than the pendant or necklace she is wearing. Mary Ann Archer designs and creates pendants and necklaces that are contemporary and timeless, casual and elegant. Check out the latest pendant and necklace collection for your newest addition.
Showing 1–24 of 46 results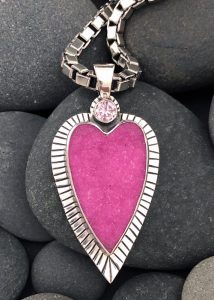 No piece of jewelry makes a greater statement on a woman than a pendant or a necklace. It is one of the first things you notice when you meet her. I love to make both. With years of experience, I craft metal and gemstones together and make heads turn.
So what is the difference between the two? A pendant is a single piece of jewelry that drops from a chain. Some people refer to them as slides because they slide on a chain. A necklace is composed of multiple parts or individual components, beads or pearls that are connected together to make the entire strand that encircles the neckline.
Pendants and necklaces are worn for day or play wear, going to work and for special occasions. They can be bold or delicate, shimmering or quiet. I enjoy designing and making them all. My designs for bails (the part that a chain or bead strand passes through) are exclusive. They have large openings and give women the option to change the look of a pendant into a necklace by changing the chain with a strand of beads or pearls. This design features gives the pendant a completely different look. And we all know multiple uses are always welcomed!
Often, the shape of the stone dictates the direction I will take for beginning a pendant or a necklace. Many of my designs are often birthed in my mind the moment I see a stone. Others are specifically designed because of an idea or a shape I want to create. Sometimes my designs are generated by nature or a dream that prompts me to get up in the middle of the night and draw.
Fads come and go, but I like to create designs that are timeless. And I create for a lifetime and perhaps decades. With that in mind,  quality of materials and gemstones is paramount.
Sterling Silver, 14K, 18K, 22K and platinum are the metals I use. From precious diamonds, to agates, as long as they are unique, interesting indwell cut, they are highlighted in my pendants and necklaces. I am always on a treasure hunt for gemstones that are rare and unknown. Today, miners are searching around the globe for the unusual or next precious gemstone find. I am blessed to know some of these miners and to bring these finds to my customers.
"I believe jewelry describes a person. When you wear a pendant or a necklace, it completes your 'look', your personal style. Everything comes together when you have your jewelry on. You feel pretty and special and the compliments flow."